Granite Worktops, Countertops and Tables:
| | | |
| --- | --- | --- |
| | | |
Worktops Portfolio | Choose from our stock granites | Worktop Price Estimator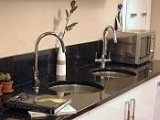 Polished granite worktops not only create a beautiful feature in your kitchen but, due to their resistance to moisture, are also the most hygenic and easiest to keep clean, of all surfaces. A wipe with a damp cloth is all that is required to remove the vast majority of stains. The hard-wearing nature of granite also means that, unless subjected to sudden thermal shock or a sledgehammer, your work surfaces could outlast your house!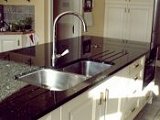 We supplied a large scale kitchen island made in Emerald Pearl, for the prestigious Fludha 5-Star Guest House in Kirkcudbright (pictured right)..
In addition to kitchen worktops, granite is also suitable for bathroom vanity units, reception desks, bar tops, table tops, splashbacks, hearths, fireplaces and shelves.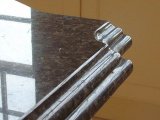 At Galloway Granite Ltd, our primary sawing facilities enable us to saw blocks of granite instead of buying ready sawn slabs. This means that we are more flexible than most manufacturers of worktops, and enables us to produce matching items of varying thickness. Moulding of edges, hob, sink and tap cutouts, working of draining areas or grooves is achieved quickly and economically using our computer-aided machinery.
We have a computer-aided design facility and template-producing office, which, if you or your designer / builder give us accurate dimensions to work from, can produce a paper template you can use to check your measurements, and ensure that your finished units will fit perfectly. Alternatively we can have our own fitters visit you.

Granite is available in a wide variety of colours, examples of which can be viewed here but are better seen by posted sample before the final decision is made. Visitors are also most welcome to visit our premises in the south west of Scotland where the materials can be seen at first hand.

Worktop Price Estimator
(Retail prices - for wholesale prices please contact us)
Our granites fall into 5 price bands and the estimates are based on:
Standard Worktop at 600mm deep x 30mm high.
Polished top and front, with top front edge blunted.

The Estimator is intended as a guide only.
Call 01671 820518 or Email info@gallowaygranite.co.uk for a full quotation.